Dr. Sathyasagar
Radiodiagnosis (PGI, Chandigarh)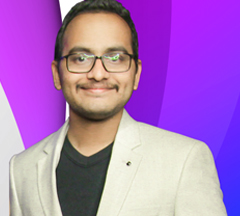 Content Rating

97%

97%

Workbook Rating

95%

95%

6 AM Medical club Session Rating

100%

100%
About
After completing his M.B.B.S. and internship from MMC- Madras Medical College and M.D. in Radio Diagnosis from P.G.I.M.E.R., Chandigarh, he started working as a Consultant Radiologist. Some of his remarkable achievements were Rank 8 in the J.I.P.M.E.R. exam, rank 2 in P.G.I.M.E.R. and 16 in A.I.I.M.S. entrance examinations.After doing his Junior and Senior Residency in PGI, Dr. Sagar started his professional career.
He has an interesting family history. He was greatly motivated by his elder brother, Dr. Vidya Sagar. He has also done his M.B.B.S. from MMC and then M.D. from A.I.I.M.S.During their career, he and his brother were very popular in the state as he managed to crack all the NEET, state and institute exams.
Speaking more about Dr. Sathya Sagar, he is well-known for his remarkable mentorship among the juniors, friends and candidates preparing for medical entrance exams. Most students love his classes for P.G.s and U.G.s as he follows a unique teaching methodology. No matter how complex the subject is, he has the skill to make that understandable and interesting.
If you are preparing for your medical entrance exam and want to make your learning process about Radiology a little easier, you should join the classes offered by Dr. Sathya Sagar. He is committed to offering the best classes and sharing his knowledge with the students. He always wants to educate the medical aspirants in the best possible ways so that they can enjoy a bright future. By joining his classes, students will explore the secrets as well as strategies that he used to crack all the entrance examinations. Join the classes now.
Exclusive Faculty of ADrPlexus
ADrPlexus Forums - Doubt Sessions